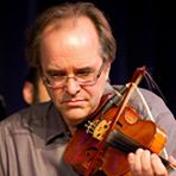 JAMES BERGIN is a composer, conductor, violist and teacher. His compositions include microtonal and tonal works for chamber ensemble, solo instruments, voice, chorus, piano, and organ. He has been a fellow at the Virginia Center for the Creative Arts, and in 2013 received a finalist award from the Massachusetts Cultural Council.
Since 2006, he has been the executive director of the Boston Microtonal Society.
With Julia Werntz (Artistic Director) he founded its chamber ensemble NotaRiotous, dedicated to the performance of microtonal music on traditional instruments, and was its conductor from 2006-2012.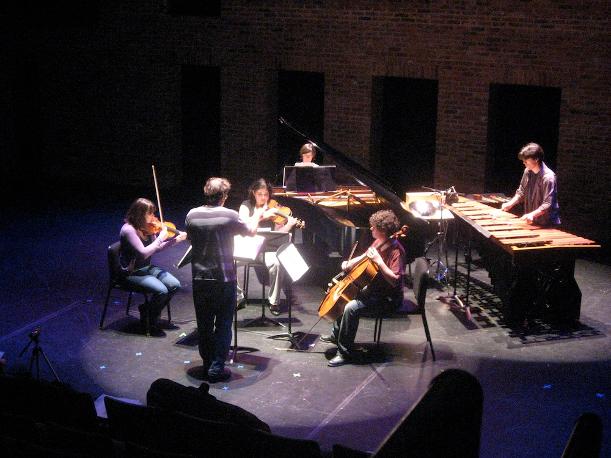 NotaRiotous at Williams College
In 2013 he founded CIAO! (Community Intergenerational Action Orchestra), based in Williamstown, MA. The ensemble's mission includes providing performing opportunities for musicians of varying ages and abilities in both traditional and non-traditional venues (including churches, nursing homes, soup kitchens, and malls) and commissioning new music that introduces a variety of contemporary musical languages, styles, and techniques, including microtones.
Gary Philo and Amy Reich have written new works for CIAO! that were premiered in June 2014 as part of a benefit concert for the Holy Trinity Music School in Haiti, which is in the process of rebuilding after their facility was destroyed in the earthquake of 2010.
Since 2016 he has been the music teacher at BART (Berkshire Arts and Technology Charter School) in Adams, MA.
He is an Artist/Teacher at Kids4Harmony, an intensive youth music program sponsored by Berkshire Children and Families that seeks to effect social change through the ambitious pursuit of musical excellence.
He currently lives in western Massachusetts, where he composes and teaches privately. He is a member of the Berkshire Symphony at Williams College.
PAST ACTIVITIES
He was the conductor of the Junior Youth Chamber Orchestra (now called the Youth Symphony) at the New England Conservatory of Music, for whom he commissioned and conducted pieces by composers Gary Philo, Thomas Oboe Lee, and Ezra Sims—the latter using pitches from the 72-note octave.
He premiered several works for viola on the Composers in Red Sneakers series in Boston, and was a member of Helios, a Middle Eastern/avant garde improvisation group. He played with Joesph Maneri in concerts of free microtonal improvisation and performed Maneri's last completed work, Osanj (for viola solo) on the debut NotaRiotous concert in 2006. He was the head of the music program at Lexington Christian Academy (Lexington, MA) for almost 20 years.
EDUCATION
Bergin entered the New England Conservatory of Music as a performance major in viola in 1971, but left the following year to study privately. He was a viola student of George Neikrug for four years; studied solfege with Albert Yves Bernard (longtime member of the Boston Symphony); piano with Maria Bono; and voice with Maria diStefano.
His composition studies were with NEC faculty member Joseph Maneri, who himself was a student of Josef Schmid (one of Alban Berg's first pupils in Vienna, who had emigrated to New York in the during World War II). Bergin studied traditional harmony, species counterpoint, and composition, using Arnold Schoenberg's Theory of Harmony, Preliminary Exercises in Counterpoint, and Models for Beginners in Composition. Although Schoenberg was not able to publish texts for his advanced studies in counterpoint, Bergin was able to undertake these studies in contrapuntal modulation and composition of 4- and 5-voice fugues due to Maneri's own extended studies with Josef Schmid.
In 1991 he returned to NEC to complete a degree in music theory with Maneri as his principal teacher. He concentrated on the study of microtones, began composing in 72-note equal temperament, and studied theory, orchestration, and ethnomusicology with Daniel Pinkham, Robert Cogan, Lee Hyla, and Robert Labaree.